Canada Pavilion | Canada Stand No. P4.C8
See you in Cannes!
Canada is getting ready to return to la Croisette with a strong presence at the Cannes Film Market (Marché International du Film), May 17 to 25. 
After two long years of absence, we are working hard to prepare our newly re-designed and eco-friendly Canada Pavilion in the Village International to welcome delegates and host networking activities to help revitalise the film industry on both sides of the Atlantic. 
We have also renewed our partnership with Cannes Docs-in-Progress, a programme that has featured several Canadian documentaries that have gone on to receive many accolades on the international festival circuit.
We are also honored to be partners on the Marché du Films new impACT Lab, a programme designed to help foster coproductions and guide producers in creating meaningful, sustainable and impactful films. 
And what trip to Cannes would be complete without our Not Short on Talent programme? This year, 7 short films from Canada will be included in the program playing in the Short Film Corner.  Participants will also benefit from exclusive mentorship opportunities and guidance. 
In the Official Selection of the 75th Cannes Film Festival, May 17 to 28, Canada will be well represented with a feature: David Cronenberg's Crimes of the Future. Also, Charlotte Le Bon's coproduction (France-Canada) Falcon Lake is selected at the Directors' Fortnight. Congratulations!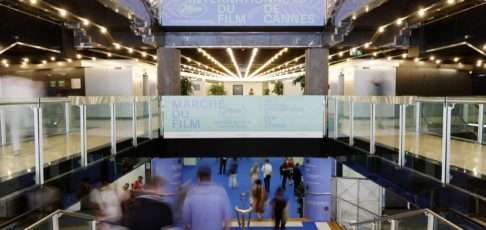 We're proud to present these Canadian productions at THE MARCHÉ DU FILM!
COPRO
See our step-by-step guide on creating with Canada.
PRODUCTION SERVICES
Tap into our wealth of cutting-edge expertise to make your project shine!
NEWSLETTER
Join our 1800+ monthly readers.
COPRO
See our step-by-step guide on creating with Canada.
CLIP
Questions you should ask yourself before attending a French market this summer.
SCREENING SCHEDULE
Discover the Canneseries official selection and screening schedule.
DIRECTORY OF CANADIANS
Explore the Canadian companies attending MIPTV.
Everywhere you go in the world, you'll find Canadian producers attending international events to promote their projects.
Francesca Accinelli
Vice President, Promotion, Communication and International Relations
René Bourdages
Vice President, Cultural Portfolio Management
Julie Blondin
National Director, Business Affairs and Coproduction
Mehernaz Lentin
National Director, Feature Film -English Market
Marielle Poupelin
International Business Development