More than a grouping of relative ages, a generation can be new growth, a wave of artists, or a branch of a family tree. This selection of seven Canadian shorts, the latest iteration of Telefilm Canada's Not Short on Talent (available through the Short Film Library), span these ideas and more.
Parents talking with their adult children; young kids talking to their parents. Without meaning to, a common element began to emerge in the latest selection of Telefilm's Not Short on Talent programme: People — both kids and adults — featured in situations opposite an age group immediately next or previous to theirs. 
This generational interplay stood out to me, and as I considered it, so did the meaning of "generation." A generation isn't just a grouping of relative ages. Rather, it's also the proliferation of new growth; it's the vague idea of a wave of artists. It's the branch of a family tree.
In Adriana Marchand's Maundy — a short that, given its sweet and summer-y vibe, reminds of ice-cold Slurpees —  a lost and drifting dry cleaning employee has an offbeat encounter with two cheeky boys, later meeting their mother through it all. Miffed, the boys attempt to take this wistful dry cleaner to trial, yet despite the odd and amusing events that follow, he gets to know them all a little better, finding meaning as he does. 
Meanwhile, in Carol Nguyen's Nanitic, two girls, Mai and Trang, spend an afternoon at their aunt Ut's house playing, eating candy, and tending to their pet ant (its container needs air holes, they decide; they sneak around to find a solution). Elsewhere in the house, Trang's grandmother is resting in her deathbed; carefully tending to her is Ut. As these beats — some honest, others very cute — unfold, this short (and its title, referring to the small size of certain worker ants) quietly resonates. 

The Left Hand (La Main Gauche) is Maxime Robin's tour de force of gender identity and self-expression. Directing a scenario that features a dramatized version of his younger self — who was identified by his second grade teacher as "not normal" — Robin revisits a classroom memory of his youth as an adult, belting out a remarkable rendition of Danielle Messia's 1982 song "De la main gauche" ("Je n'ai jamais eu d'adresse / Rien qu'une fausse identité") to overwrite this past with his future.
A similar autobiographical insertion happens in Underpaint, Anna Hopkins' homage to Tom Hopkins, a Canadian visual artist and Anna's late father. Writing and directing a version of herself, Anna notices a young girl and her dad at an art gallery, prompting thoughts of Anna's relationship to her father and his body of work. ("I eavesdrop at museums now," she says. "Maybe I'm hoping to hear him again.") One scene shows Anna listing the things she'd need to do to properly commemorate her dad's oeuvre — a website, perhaps. Surely this short film, a stroke of brilliance, accomplishes that.
A few hours' drive northeast from Toronto lies the picturesque Madawaska Valley, a slice of Ontario countryside that, in the summer, sees locals and cottagers enjoying lakes, sunshine, and the smell of sweetfern in the air. This township's wild side is also the setting of Aaron Ries' Druh, a short that follows three scouts and their scoutmasters camping in the Valley's chilly autumn woods. But this is no ordinary trip: These scouts are trying to earn a coveted badge,  and as they venture into the bush amidst the intense pressures of competition and boyhood, things take a dark, unnerving turn. 

What are trees if not silent sentinels, keepers of time and generations of the earth? "Primeval" is not a word to use lightly, but it's apt for Simon Plouffe's Forests (Forêts), a documentary revealing the sunken white pines in a hydroelectric reservoir on unceded Innu territory. As voiceovers from the community share stories of these ancients, Forests' underwater photography (and contemporary relevance) becomes an elemental audiovisual experience like no other.
Before his untimely death in 1997, Jean-Claude Lauzon was, with only two features to his name, frequently hailed as a prominent member of Canadian film's next generation. Indeed, in the 2007 essay collection Great Canadian Film Directors, Jim Leach writes: "[Lauzon's] impact is perhaps best seen in the work of a group of young filmmakers whose films combine a dazzling visual surface with dislocated narrative structures that tap into the unconscious," possibly influencing films like Denis Villeneueve's Maelström (2000) and Manon Briand's La Turbulence des fluides (2002). In Marie-Josée Saint-Pierre's The Lauzon Theory (La théorie Lauzon), a fantastic hybrid documentary, Saint-Pierre fuses original animations and sequences with clips of Lauzon's work and public appearances to, ultimately, look back at Quebec cinema's enfant terrible and psychoanalyze his relationship with his father.
If Lauzon's prize-winning Piwi (1981) is any indication, short films can herald the beginning of something big — a career, a movement, a generation. Following their screening at the Cannes Court Métrage next month, it's my grandest hope that any (or all) of these short films — just seven of the many formidable works submitted to Not Short on Talent this iteration — inspire exactly these kinds of conversations.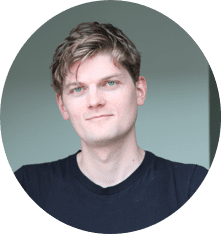 JAKE HOWELL

Jake Howell is a Toronto-based writer and freelance film programmer.