Did you know

–

in addition to your Canadian film, television, and online favourites, immersive storytelling is another thriving sector of Canada's audiovisual industry?
That's right! From games to virtual reality, to immersive experiences and everything in between, this high-tech sector is a Canadian claim to fame! We're proud to be home to many strong VFX and animation studios that produce internationally-renowned and award-winning content that captivates audiences around the world.  
And as prominent festivals continue to highlight immersive experiences, we're excited to showcase interactive content that uses cutting-edge technologies to enrich and shape the stories of our homegrown talent!
Which brings us to Canada's selection at this year's Tribeca Festival, taking place in New York City from June 8 through 19, 2022. Not only do we have two films in official selection, we're also turning heads with our immersive content!  
Projects from Canada include four immersive experiences (three of which are coproductions) and two animated games, each having their world premiere. We've got a 360-degree audio journey into Vancouver's overdose crisis; a cinematic virtual reality doc about the dark side of living in Canada as an Indigenous person; a graphic novel brought to life in VR; a fictional look at the impact of civilization on the environment, and more. Here's all you need to know about Canada's Tribeca Festival selections.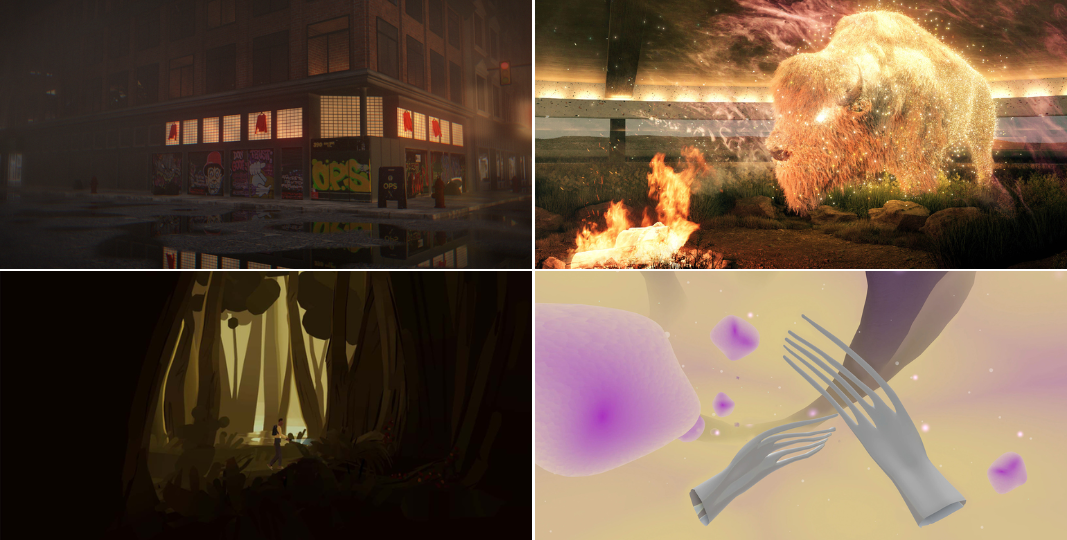 Main Competition 


DARKFIELD, Crackdown, and Brenda Longfellow

's

Intravene

 


This UK-Canada coproduced audio project is making its world premiere at Tribeca. The immersive audio work explores Vancouver's overdose crisis using binaural 360-degree sound. Drug users and frontline workers narrate their own stories in this powerful audio experience,

developed within the UK-Canada Immersive Exchange program. The creators of

Intravene

are Canadian documentary filmmaker Brenda Longfellow; Garth Mullins (of the Crackdown Podcast); and Andrea Salazar (of Darkfield).

 
New Voices Competition 


Ahnahktsipiitaa (Colin Van Loon)'s

This is Not a Ceremony


After virtually premiering at the Sundance Film Festival, this Indigenous cinematic VR documentary comes to

Tribeca. In 2017

, this project also earned the

National Film Board of Canda and imagineNATIVE Digital Project Prize

! Produced for the National Film Board of Canada,

This is Not a Ceremony

delves into the darker sides of being Indigenous in Canada.

As explained in this

NFB press release

, viewe

rs are "guided with care and kindness" and called to "bear witness, to share what they have seen and heard, to learn from these tragedies and never forget—so that they will never happen again."

 

Adam Madojemu and Edward Madojemu's

Mescaform Hill: The Missing Five


Also making its world premiere at this year's Tribeca is this animated Canada-U.S. coproduction: a graphic novel, full of traditional myths and folktales, that comes to life with virtual reality. Created for the Oculus TV platform, the experience takes place in a fictional town in Nigeria (where the project's creators are from) and tells the tale of the seemingly supernatural  disappearance of police officers, when a cadet decides to find the truth. 

Produced by Meta,

this project falls within Tribeca's Juneteenth program.

 

Miri Chekhanovich and Édith Jorisch's

Plastapiens

 


A playful union of plastic life and organic life is the ironic premise of this Canada-Israel coproduction, in its world premiere! Produced by Dpt., the NFB, and Lalibela Productions (Israel), this virtual reality experience takes a fictional look back in time into the so-called "Plastosphere" to delve into different ways in which civilization and humanity impact our planet's ecology and environment—and vice versa. 

 
Two animated games—both food-themed!—are on Canada's Tribeca menu this year, both making their world premieres in Tribeca Games:  
Viewpoints
Sarah Watts and Mark Slutsky's

You Can Live Forev

er




This debut feature, written and directed by these two Montreal-based filmmakers, is having its world premiere in Tribeca's Viewpoints section. The Telefilm-supported project is about a fateful love story between two teenage girls, brought on when one arrives to live in a community of Jehovah's Witnesses. Produced by

Prospector Films

.

 



Tribeca Critics' Week
Monia

Chok

ri's

Ba

bys

itter

 

 


Fresh off its screening at Sundance, this Canada-France coproduction is a comedy about misogyny. Filmmaker Monia Chokri is well known for her acting work, as well as her 2019 full-length directorial debut A Brother's Love (La femme de mon frere) which earned a Cannes Coup de Coeur award. Adapted from Catherine Léger's stage play, Babysitter is produced by Amérique Film (Canada) and Phase 4 Productions (France).