After debuting at the Canadian Film Fest in March, premium drama series Streams Flow From A River screens at Canneseries in the fest's Short Form Competition! To highlight its exciting international premiere, we've spoken to queer South Asian Canadian producer Shant Joshi, president of Fae Pictures. Big news: Joshi has also been named one of this year's Producers to Watch at MIPTV, the industry market taking place at the same time as Canneseries.
Back home in Canada, the six-episode series is available on Canada's Super Channel. Created and directed by Christopher Yip, Streams Flow from A River chronicles generations of an Asian-Canadian immigrant family. "It goes back to the day the father came to Canada, at the airport, trying to find a job, all the way to the lineage of his son, living in the city struggling to make ends meet, mirroring the struggles of his father," says 27-year old Joshi. "The two have hit an impasse and don't see eye to eye. But we realize their stories are quite similar."
Hence the title. 
We all come from the same river but we've segmented into our own streams, and we need to come together to enter a rhythm and momentum that propels us forward."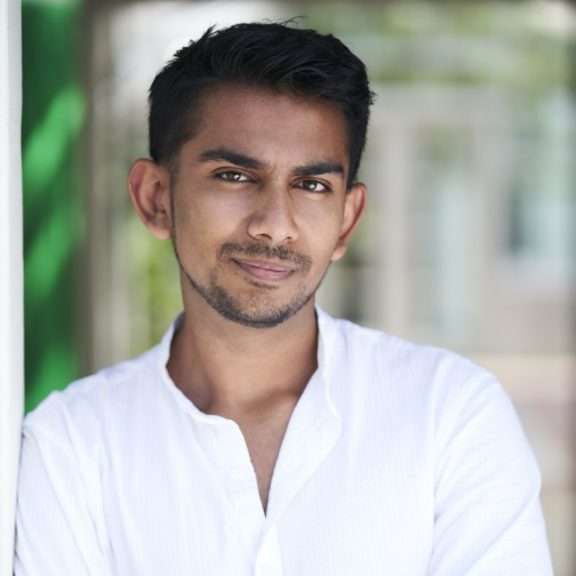 Diverse stories for a "diverse millennial audience"
The show reflects Fae Pictures' mission "of decolonizing Hollywood and elevating underrepresented stories," explains Joshi, who is part of the Future of Film Showcase's Advisory Board and the Canadian Media Producers Association's restructuring, equity, diversity, and inclusion action committee (REDIAC), while serving as co-chair of the BIPOC TV & Film Board. "We're producing content we want to see on screen, knowing there's an audience for it. If my team and I want to watch it, there must be other people [who do too] … Maybe that's a fool's errand, but we were all in early stages in our careers and had the opportunity to go for it and felt [there was a need for] a diverse millennial company trying to hit the diverse millennial audience."
Their approach shines behind the scenes as well as on screen. For instance, Variety's Naman Ramachandran reports that 75% of Streams Flow From A River's crew is of East Asian descent and its "all-Asian writer's room" is a first for a Canadian series.
Driven by their mission of "creating cinematic content for, by, and about queer, trans, and BIPOC people," Joshi and colleagues built Fae Pictures during the pandemic, and now have offices in Toronto, Los Angeles, and New York. Upcoming projects include the "South Asian horror" In Flames (selected for Directors' Fortnight at this year's Cannes Film Festival) and "revolutionary drag queen movie" Queen Tut, both supported by Telefilm Canada, among other funders, while highlights of their previous work include International Dawn Chorus Day, which earned a Teddy Award at the Berlinale (director John Greyson).
And of course, Framing Agnes, the acclaimed documentary about a trans woman's legacy that their company made with filmmaker Chase Joynt. When the project premiered (virtually) at Sundance in 2022, Joshi and team jumped on social media. With 5000 virtual seats up for grabs, "we said, 'let's get trans Twitter out to support it,'" he says. "During the premiere, we were getting tweets of people quoting the film in real-time and responding to it. I said, 'this is what it's about, this one person watching this film on their laptop or TV and saying, 'this is my experience, I haven't had a chance to hear myself validated on screen before.'" (At Sundance, Framing Agnes, also funded by Telefilm among others, scooped up the NEXT Audience Award and Innovator Award for Joynt).

The road to producing professionally
Born and raised in Toronto watching Bollywood and Disney, Joshi's eyes were always "glued to the screen," he says. "I loved entering these fantastical worlds." During film school at York University, he became the go-to producer, helming more than 15 student films. Realizing he liked it – and was good at it – from problem-solving to scheduling, budgets to personal relationships, he began working professionally. The question became: how to produce with purpose?
"My parents are both immigrants who succeeded and excelled in their career paths," says Joshi. "So if I'm comfortable from a socioeconomic standpoint, what can I do to improve the lives of others? I see the power of filmmaking and storytelling as a privilege I don't take lightly… If I just do anything that comes my way, what am I going to be doing?"
And so, he defined his intention. "I needed a North star, that became Fae and its mandate, our eligibility criteria, because we wanted to change the world in some way through our stories."