What is the special magic that forms family bonds? How, if ever, are these bonds severed? As I screened dozens and dozens of exciting short films submitted to Telefilm for the Clermont-Ferrand 2021 Short Film Market, I found myself taking in many nuanced looks at the infinite intricacies of family relationships — the highs, the lows; the joys, the griefs.
With this programme of seven shorts, we open with the joys. In Peter Venne's sweet and funny The Music Lesson (La leçon de musique), Seb, an endearing member of a family mariachi band, gets a job as a guitar instructor in his community. But as he works around the clock playing and teaching music, he soon learns something invaluable about the importance of making time for new interests.
In Natalie Murao's thoughtful and poignant No More Parties, the pressures of family begin to weigh on Rose, a young woman who lives at home with her parents. After deciding to attend a friend's karaoke party — despite a sprained ankle and her worrying mother — Rose understands the closeness of family can be, well, relative.
Family can also suffer hardships — but as some of these shorts show, it can also endure and find solace. For instance, Lyana Patrick's beautifully animated documentary short The Train Station reflects on the pure actions of a grandmother's love, sharing a personal memory — and a tale of survival — regarding the Lejac Indian Residential School in northern British Columbia.
Meanwhile, in Sandrine Brodeur-Desrosiers and Carmine Pierre-Dufour's Fanmi ("family" in Haitian Creole), and later in Lev Lewis's Every Day's Like This, the sickness of a mother becomes the catalyst for moving conversations — some raw, others frank — about familial connections and the difficult situations ahead. In the former, the diagnosis is fresh; in the latter, it's an established reality. As two sides of the same coin, both are equally powerful.
Rose Katche's The Deliberate Death of My Father, on the other hand, is an engrossing look at a more complicated family dynamic. The short is bookended by scenes at a salon, where Zoey, a young woman, is contemplating an act of defiance following her father's embarrassing eruption at her graduation dinner. The result is a different — and totally invigorating — type of estrangement.
Family, as we all know, is hard work — indeed, it becomes the life's work of a parent. In Ophelia Spinosa's documentary Fruits of Labour, the final short of the selection, the filmmaker turns the camera on her father, a man who runs a vineyard, and asks him meaningful questions on the subject of caring for things that grow — and the divine love that goes into it.
The past year has given me new perspectives on the people dearest to us. To those (virtually) attending the Clermont-Ferrand 2021 Short Film Market, I sincerely hope you enjoy this programme.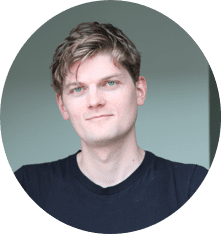 JAKE HOWELL

Jake Howell is a Toronto-based writer and freelance film programmer.